Truly Unique Custom Cocktail Rings
You've seen them – dramatic, eye-catching, bold and loud! That ring you can't help but notice from across the room because it is so cool. The cocktail ring has been a hot trend for a very long time, especially over the last century. The beauty of a cocktail ring is that its only criteria is that it just needs to be eye catching, making them a great way to flaunt your style and express your individuality.
So, with this in mind, let's take a look what makes the cocktail ring so irresistible and check out our top tips on flaunting your style with the perfect cocktail ring!
This was created as a mother's ring, but nobody needs to know that.  It is still a sleek and sexy right hand ring that can be set with almost any stone that you want.
This is one of two butterfly rings that we have created.  This one uses diamonds to create the wings, but any colored stone would work as long as it is cut in the necessary size.
Bold, over-sized, and colorful, the cocktail or fashion ring is a canvas on which a our imagination gets to run riot. Many times, cocktail or right hand rings are embellished with multiple features, layers, and precious stones. Taking its name from the rebellious flapper girls who wore them while sipping illicit cocktails during Prohibition, we love them and the idea they represent.
This nature inspired cocktail ring has a lush garden of fauna supporting the center stone.  Among all of that a lone hummingbird sips nectar from a flower.  There are also 6, 2mm stones on each shoulder.
What Are Cocktail Rings?
Cocktail rings are generally much larger than normal rings, are three dimensional and designed with many colored gems and/or smaller diamonds. They often contain an over-sized gemstone as the centerpiece that stand out with striking colors and cuts. The rings are typically made of affordable metals such as silver or plated gold and of imitation or affordable gemstones. It is easy to see why. Due to their large size, they would be extremely expensive if they were made of gemstones such as diamonds or sapphires and expensive metals. So with cocktail rings, you can have the glamour without the cost.
We had a customer who wanted larger right hand ring, but only had a 5x7mm Emerald to work with.   So we created a halo immediately around the center stone.  To make it even larger, we added another halo another 3mm out from the Emerald.  We then covered the halos and shank with diamonds.
There is no prescribed stone or setting that classifies this piece as a cocktail ring.  However, it should be conversational and get you tons of compliments.
Custom Cocktail Rings – Whatever You Want Them to Be
This custom cocktail ring was created to do one thing: showcase a 5+ carat Aquamarine.  We didn't want to present her with a plain solitaire idea, so we came up with this bypass design.  To give it a little flair, we added some shapes on the band.
This bypass diamond ring is definitely a great addition to any fashion jewelry collection.  We especially love how the row of stones curves to mimic the lines of the shank.  This would also work as a mother's ring.
There are numerous reasons to have Custom Cocktail Rings created. Maybe you'd like a piece that's absolutely unique and personal? Maybe you'd like to restyle or give new purpose to old, unworn, or broken jewelry. Whatever the reason, make Valeria Custom Jewelry your destination for Custom Cocktail Rings. Using your vision and your ideas – possibly even your stones and metals – we'll create a one-of-a-kind design for you, and probably for less than you think.  Even if it costs a little more than a ring at the mall, it is worth it because it was created just for you.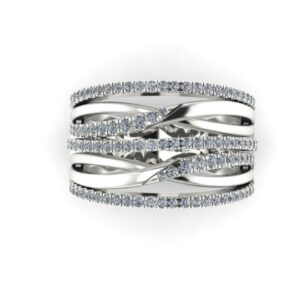 Our Diamond Crossover Ring is a beautiful mesh of  7 separate bands that elegantly crossover each other, some of which are accented with 1.3mm, french pave set diamonds.  We created this stunner as a cocktail ring to be worn on the right hand, but it would also work as a mother's ring using birthstones as well.
Whether you're interested in nature-inspired rings, right hand rings, a mother's ring, or just a bauble you want on your finger! Custom Cocktail Rings from Valeria Custom Jewelry are sure to impress. And we can create our gorgeous custom rings for a variety of price points because we know not everyone has Bill Gates's bank account!  Our stunning jewelry creations are inspired by anything!  Nothing is out of bounds for our Custom Cocktail Rings!
This Split Shank Bypass Ring has an east west set oval center stone that is enveloped in between an elegantly curved split shank.  The band is accented with 1.3mm diamonds, but other types of stones could be used.
As Delicate as a Flower and Just as Sweet Custom Cocktail Rings
It's rare to find a lady that doesn't love her flowers, so it's no surprise that flowers are a main focal point Cocktail Rings. From vintage flower rings to exquisite brooches and nature-inspired earrings, you can take a piece of the natural world with you everywhere you go, and you'll never have to worry about it wilting.  Add some color and character to your ensemble while showing off your love for the great outdoors. Browse through our selection Cocktail Rings today and make your own discovery!
Our Gazania Flower Ring holds a 5mm round stone that is surrounded by flower petals and a halo of stones. It also has 2 mm accents hidden underneath the setting.  Other size stone could be used though.
If you want to give someone something truly special, why go with a generic ring from a big box store?  Valeria Fine Jewelry creates custom, one-of-a-kind pieces that are as unique as your significant other. As a customer, you have a say in every aspect that goes into creating the ring.  From choosing the metal of the band to the cut of the center stone.  And rest assured that no other person in the world has a ring quite like yours.  It is impossible to put a price tag on that!
Make Your Own Custom Jewelry Discovery at Valeria Fine Jewelry.
If you know you want Custom Cocktail Rings made, but don't have a concrete idea, browse Valeria Fine Jewelry's gallery of unique designs to help get you started. Pinterest, Instagram, and Google are also excellent resources for finding images of jewelry.   There, women have done the work of compiling millions of images for you.  If you still don't know…try a drawing, no matter how crude.  Our designers have used very crude drawings many times and created beautiful Custom Fashion Rings.
We took a bezel set, 9x7mm Garnet and we added a halo of 3mm pink pearls.  All of this was set in Rose Gold, so red was definitely a theme in this custom cocktail ring.
One of a Kind Custom Cocktail Rings
Our custom jewelry capabilities are truly a testament of the customization available at Valeria Fine Jewelry. Lucas Horton, the owner designer and at Valeria, uses comprehensive computer-aided design to create his cocktail rings.  Once a design is ready, lost wax casting is employed to bring your ideas to life. His connections with diamond and gem sources around the world lowers his procurement costs.   This allows him to create pieces with the same high-quality materials found at larger chain stores.   All while still staying within your budget. And whether your budget is a few hundred dollars or upwards of ten thousand, Lucas' goal is the same. He aims to exceed your expectations and almost always succeeds!
Click HERE to learn more about Custom Cocktail Rings, to see our portfolio, or to contact us about your own Custom Fashion Rings.  Click HERE to see our portfolio of fashion rings.  It can cost less than you think to have your very own custom Diamond cocktail or fashion ring made just for you. Why hassle with the retail stores for boring and overpriced fashion and cocktail rings?